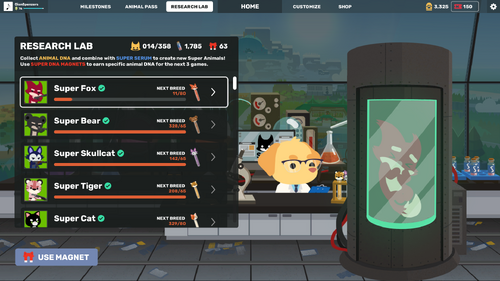 Research Lab is a special menu in Super Animal Royale, in which players can spend

Animal DNA and

Super Serum to unlock new animals. To unlock breeds of an animal, the player must first unlock the base breed of that animal.
Animal DNAEdit
Animal DNA is unique for each animal and is dropped after a match is completed.
Some DNA types will only drop if the player is above a specific Level. For example, to unlock   Super Donkey, the player must be at least Level 20 to find   Donkey DNA as a random drop.
After a match that results in the player reaching Level 10 and every 10th level after, the player will receive DNA corresponding to one of the animal types which the respective level unlocks (levels which do not have corresponding animal unlocks will just multiply whatever the random DNA drop the player receives at the end of the match). Normal calculations are performed to determine the base amount of DNA earned, and a bonus of either 2, 3, or 4 times the DNA is applied to the drop.
Level
Rewards
1

 

 

 

 

 

 

 

10

 

 

 

 

 

20

 

 

 

 

 

 

 

30

 

 

 

 

 

 

40

 

 

 

 

 

 

50

 

 

60

 

 

 

70

 

80

 
Super SerumEdit
Super Serum must be spent alongside DNA to unlock a new animal or breed.